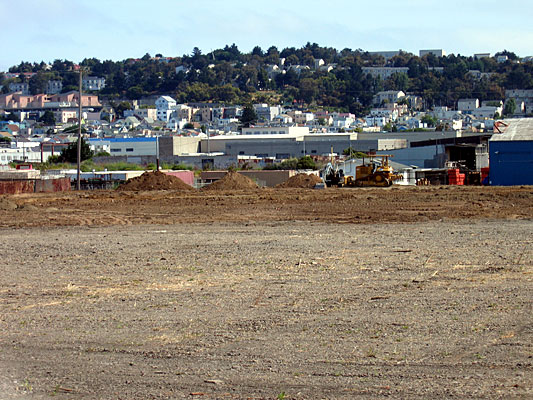 Piles of Toxic soil.

3620 19th Street (06/26/06)

3620 19th Street on which stood a one story warehouse in which operated for a long time Motor Arms Garage.

Around 1965 the Sanborn Map indicates that the usage of the one-warehouse building had changed to a food packing and storage with large cold storage areas, an office area and a tuck loading and asphalt paved parking area northeast of the building.

The warehouse operating the cold storage and food packing business operated until the late 1980's was vacant until 1998 when the building was demolished except for the concrete floor slab and the warehouse building fašade along 19th Street that was left in place.

In May 1997 two underground storage tanks were removed and petroleum hydrocarbons as gasoline and its constituents were detected in the soil.

It has been a couple of days now that the toxic soil has been transported all the way from 3620 19th Street and brought to be piled and spread at a fenced site on Carroll Street close to Public Housing and in an area that Mayor Gavin Newsom has plans for facilities linked to his dream Summer Olympics 2016.