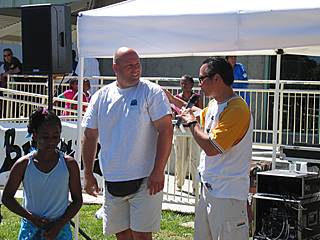 Jeff Adachi (in yellow) makes magic.

JEFF ADACHI MAKES MAGIC AT BAYVIEW PARK

Jeff Adachi the Public Defender and his fellow workers helped organize a give away of backpacks and school supplies at the Bayview Park in the Bayview by Martin Luther King Jr., Swimming Pool. Over 1000 people showed up.

There was lots of food and most every one was seen eating a hot dog and smiling. Children had fun games to play and there were places the children could get some school supplies. Special tables were set up to distribute information and City Agencies and Community Based Organization teamed together to make MAGIC.

This is the fourth time that so many people have gathered to have clean fun in recent months. Most people outside the Bayview think and hear about the negative but there is a lot going on and people like Jeff Adachi is making good stuff happen.

Toye Moses from the Southeast Facility helped a lot and so did the Bayview Police Station. Kudos to all of you who did the clean up.

The Samoans came out in force and supported this event. There were many local leaders too like Espanola Jackson and her husband Rene moving around and making people feel good.

I talked to the youth and they liked how they were treated. Many smiles and lots of good cool feeling spread around.

One and all you need a pat on your backs.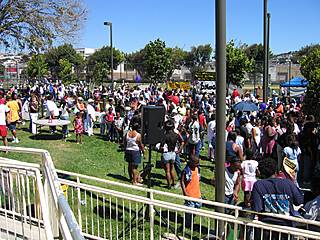 Lots of folks having clean fun.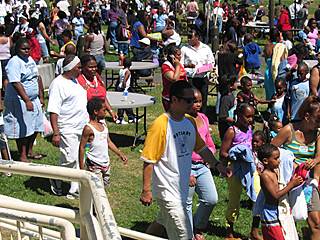 In Bayview we are going places.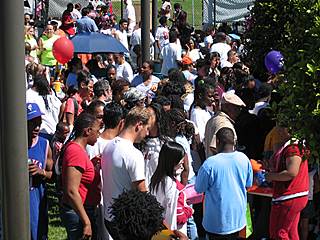 A long line for some quality hot dogs.